Exploring the Who? What? And Why?
Exploring SMALLab
The second week started off with exploring the SMALLab technology – that includes a foam mat and 3 motion capture 'wands' that can track a person's movement on the mat.
After booting up a few past projects that had been built on this platform, we started thinking of interesting and fun interactions we could try and play around with.
We quickly discovered a few game design constraints moving forward –
Low resolution of the projector on the mat
Shadows of the players on the mat
Availability of 3 wands (not a strict limitation)
We would have to keep these factors in mind while brainstorming ideas in the future.
A few interesting interactions we shortlisted from this experience are –
Free Canvas painting motion
Side-to-side sliding
Two-player spring co-op motion
Grab and drop
---
Meeting with the therapists of the CHILL project
Having had a brief introductory meeting with the clients in the week before, we were geared up to meet the therapists of the Allegheny Health Network – CHILL project. They are also the therapists who interact with the students on a day-to-day basis, and hence know our "real" clients, i.e. high school and middle school students, the best. A few features discussed stood out to us as inspiration for possible experiences –
On interacting with the therapists, we learnt that the CHILL project had 3 tiers to dealing with students problems.
The highlight of their project in Northgate school is the Chill room – a room decorated with warm lights, games, paintings, and an overall environment of calm and peace.

Students come there when they feel highly stressed, anxious, or even just to talk or take a nap.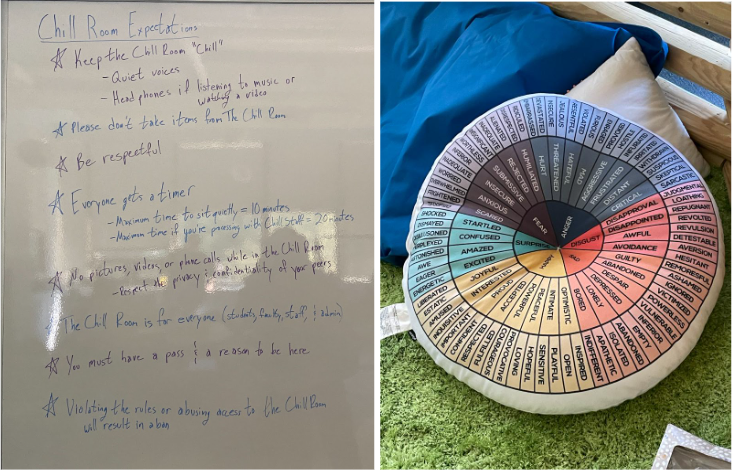 They are usually encouraged to identify their feelings on a 'feelings' thermometer before entering either the CHILL room, or their therapist's room.
This helps them identify their own feelings and also informs the therapist of their emotions. They have also noticed that there are a lot of students that struggle to self-identify their emotions.
Takeaways
Demographic is very diverse

This includes language, race, family income, etc.

Issues observed by therapists

Peer conflict
Managing stress and anxiety
Problem solving
Insecurities

Things to generally avoid

Trauma and grief
---
Putting together our Composition box
Having not met our target demographic – our students – yet, we put together our composition box from the content we discovered through meetings with the therapists and clients.
While making our composition box, we began drawing inspiration from other existing games and experiences. Immersive exhibitions and collaborative party games were our primary starting points for brainstorming.
---
Production and Art – introducing our logo!
Our team's UX designer – Yifan – designed multiple options for the logo of our project. After presenting it within the team and to our project advisors, we found a favorite!
We loved the friendliness with which the logo represented our aim to address serious topics by building fun and playful experiences.
Gearing up for next week
Preparing for school visit and meeting the students

Activities and interview questions

Quarters – preparation and presentation