Our first school visit and Quarter presentations
Preparation to meet the students
We started our third week off in preparation to meet the middle school and high school students for the first time! We were meeting with the high school students for a 45 minutes slot and middle school students for a 30 minutes slot.
Icebreaker activities –
We were aware that the topics we would bring up related to mental health might be heavy to discuss with people they are meeting for the first time, that is, us. We brainstormed a few icebreaker group activities to begin our meet with. This included one of our favorite improv activities – Zip, Zap, Zop, to warm everyone up. We also wanted each person in the group to say something positive about the person to their right, to set the right feeling in the room before we began.
Activities and discussions –
We divided our time into two slots – the first half would be a group activity where students could write their answers on chits. This ensured students who might be uncomfortable to speak in a group got their thoughts and feelings through to us.
The activity we designed was to write down the first word and color they think of when they see certain words we show them. We designed this to gauge their first instinct regarding certain words. We asked for the color to guide our art and design moving forward.

We chose a mix of positive, negative and neutral words for the students. Based on their responses on the chits, we planned to incite discussion in the group.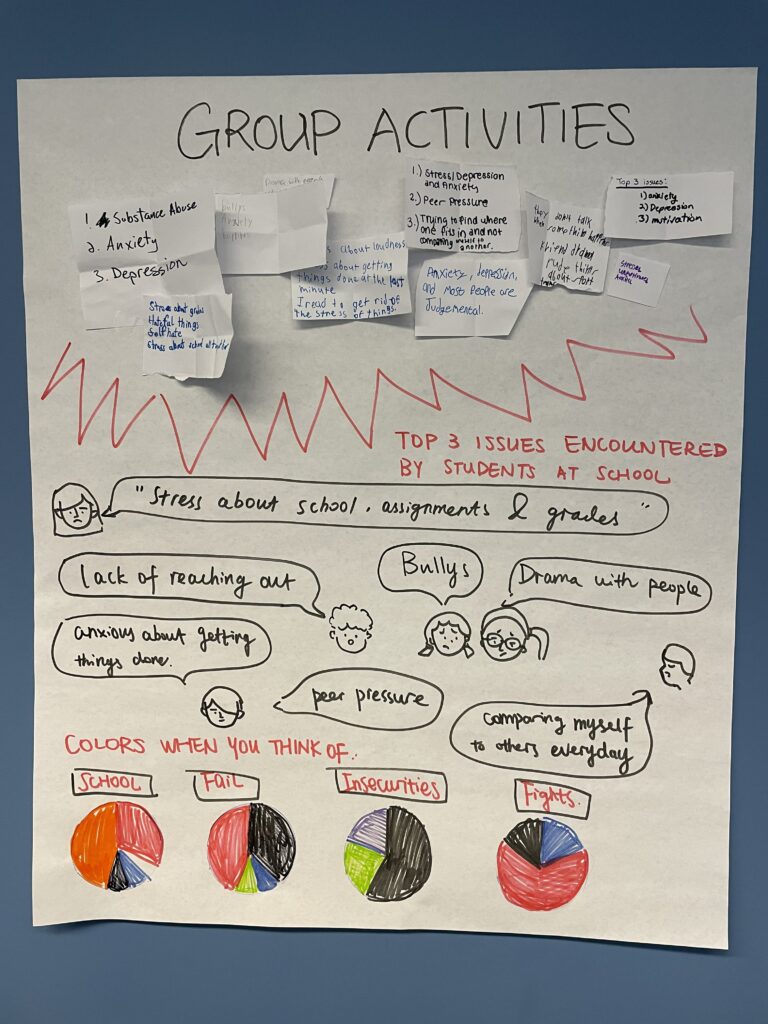 For the second half of the time slot, we prepared a question bank for discussion. These questions were prepared based on the conversations we had had with the therapists in the previous week and the issues they had highlighted. These questions also included a general survey of their favorite games, sports, etc. and any previous interactions they had had with SMALLab technology.
School visit 
We made our way to Northgate school on the morning of September 14th. We met with our two main points of contact at the school – Jeffrey Evancho (Director of Partnerships and Equity at Northgate School District) and Kate Kohne (Supervisor – Behavioral Health for the Chill project by AHN).
After brief introductions, we first met with a group of six high school students, followed by a group of six middle school students. We conducted the planned activities and also had some very interesting conversations within the group.
One of the highlights of our visit was to discover how interactive each group of students was – and how that would dictate the kind of experiences we make. Middle school students seemed very open to discussion about even their most personal issues, and most of our time was spent in open group discussions.
On the other hand, high school students preferred to write their answers down rather than discuss in a group. We spent most of our time asking questions and then writing their answers down anonymously.
Our most important takeaway was the top issue highlighted, which seemed to be common across both groups. They all pointed out that stress and anxiety regarding academics, and being overwhelmed by school was the top issue they face and notice in their peers on a daily basis.
Design
In preparation for Quarters and after our school visit, we divided the 3 prototypes into 3 categories we aim to develop upon further.
Collaboration intensive
Art and Body interaction intensive
Information intensive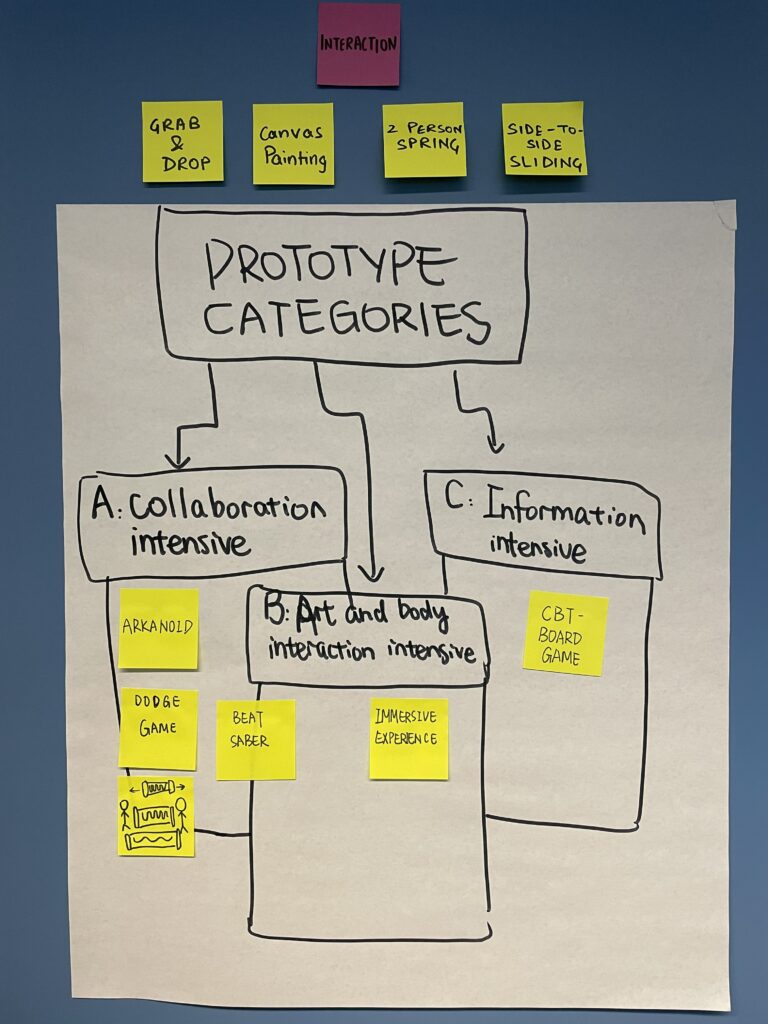 We shortlisted some experiences for each category in order to present to the faculty at the end of the week.
Going into quarters we had 2 major concerns we wanted to bring up with the faculty –
How do we approach the design of mature content of an experience based on mental health?
How do we approach the design of multiple prototypes?
Quarters

Our Quarter presentations were scheduled for the end of the week, leaving us time to incorporate our school visit takeaways into our Quarters presentation.
Our Quarters consisted of 15 min slots with each group of faculty members – rapid 5 min presentations of our work till now followed by the next 10 min of feedback and questions.
A summary of the Quarters feedback from the faculty members –
Choose a more narrow age group for each prototype
Get a preliminary production timeline ready to prepare for the design and development of 3 prototypes
The free-form art and body interaction experience seemed to be the current favorite of the three categories pitched

Addresses the stress and anxiety of students which was identified as our top issue

We found and will look into multiple great examples of games that deal with emotions and feelings
Moving forward, for each prototype we will narrow down our goal and identify one emotion
Plan for next week –
Build a production timeline
Divide tasks and begin work on prototype #1