Plan this week
Given that we are taking a step back for our project last week when time is going forward, everyone is super anxious on what will happen. As such, we came up with a plan this week to ensure that we will not fall behind our schedule. Fortunately enough, with everyone's proactiveness and hard work, we managed to complete every single tasks on the list this week. YAYYY.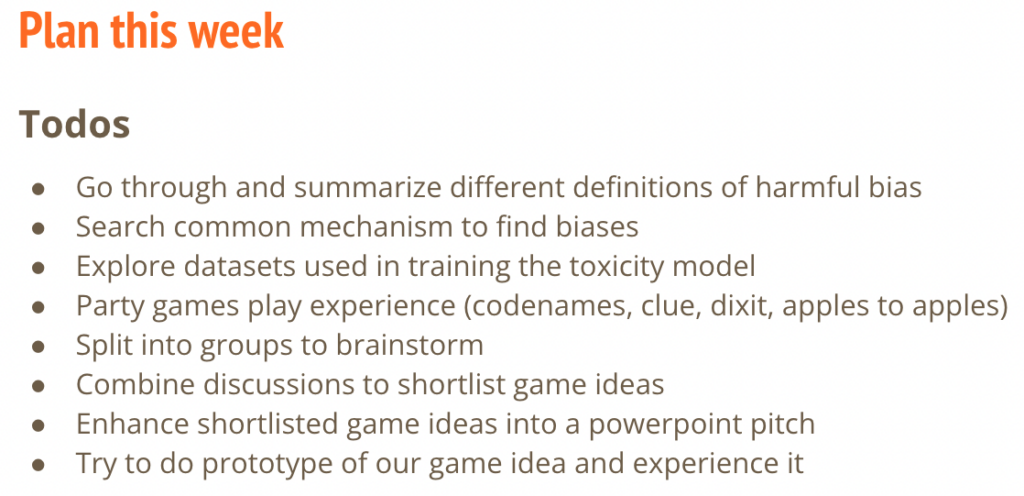 Reorganizing
The first stage of our todos is reorganizing all of our thoughts again, from what we want, what our client want etc. Hence, we collated a list of questions to create a better understanding of what our clients want to achieve. Thankfully, our clients managed to provide us with detailed answers to each question very promptly through our combined slack channel.
We also went to listen to "The Kate Crawford talk" about various categories of biases in today's society. Feel free to check it out yourself! With the knowledge of various forms of biasness, we all tried to identify different strategies from various angles to try to find biasness generated by the AI model. We managed to collectively found 15 different strategies across 5 different categories. We have decided to group similar strategies together and managed to sieve out 5 common strategies which we hope to incorporate into our game
After learning so much knowledge in such a short span of time, we have also collated everything into a google document here for ease of reading and referring to.
Pre-Brainstorming
Aside from clarifying from the client and looking at biases talk about AI model, we have also taken a closer look at the type of data we are getting within the toxicity model. We can split the results from the model into multiple categories namely general, identity labels, religious labels, physical labels and others. As such, we have decided to filter the data to find out the most, middle ranged and least toxic ones for comparisons. The top 40 comments of each categories can be found in here. Those that are highlighted red are the ones which we, as a team, feel that they are wrongly labeled and uncomfortable about.
On top of these, we have also loaned multiple party games to try to play, have fun and learn more game mechanisms which we can try to incorporate into our own. These games include codenames, clue, dixit, apples to apples etc. Here are some pictures of our team "hard at work" playing games: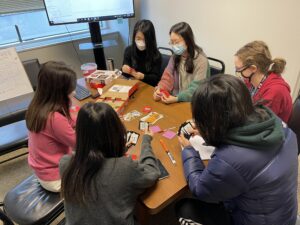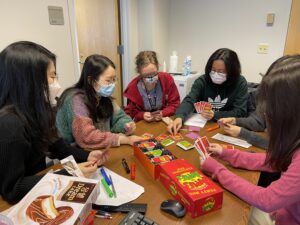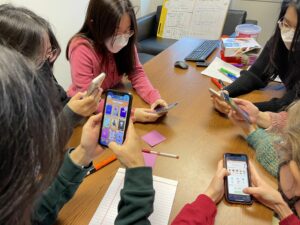 To be honest, this is the first time all of us played games during the brainstorming stage. We totally enjoyed it and to our own surprises, we managed to come up with many interesting ideas from these activities.
Brainstorming
With multiple experiences playing these party games, we split into 3 groups to start brainstorming multiple ideas which we can use in our project. Each group has tons of ideas and eventually, we selected 3 ideas to develop further after our pitches.
We enhanced these 3 shortlisted game ideas further into a powerpoint slide which you can find here. 
Prototyping
Finally, we ended our week by prototyping our most liked game idea. We selected 100 comments from the dataset which is determined as neutral comments by the AI in the gender and cultural categories. We then printed them out, cut them into card and started playing it as a card game.
Each player will be given 7 cards. In each round, we will determine a theme namely gender, culture or general. Each player will choose a card which they believe to be the most toxic matching the theme. Everyone will vote on a piece of paper the most toxic card they think. The winner of the comment gets votes accordingly. (Remember these cards are supposed to be neutral after being determined by the AI model. To find the most toxic comment means that this is the most wrongfully labeled and harmful comment from AI.)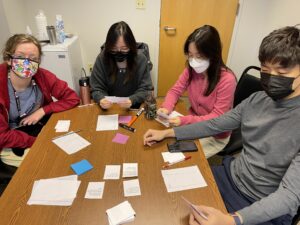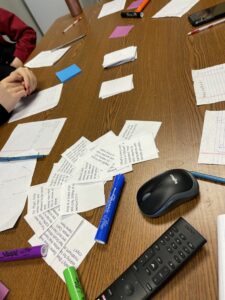 To be honest, despite these comments having a neutral label, we felt somewhat uncomfortable when reading through some comments. We can image how useful it is to help sieve out more toxic data in the future. Look forward to our progress next week!
Tech Updates
Most of the efforts have been spent on game ideation. The programmers are using the free time to look at implementing database using Firebase through Google Cloud Platform
Artists Updates
Most of the efforts have been spent on game ideation. The artists also managed to complete our final poster and half sheet designs.
AIAuditors Production Update
Despite spending a week more on brainstorming, we are proud of everything we have learned and accomplished so far. As time progresses, we believe that we will create something amazing which we will all be proud of 🙂 
Do look forward to our future update! 🙂