This week (MAR.28 – Apr.3) we have a playable version and we did an informal playtest at the beginning of this week, and then collected some feedback from the players. We tried to focus on iterating the user experience and kept filling content into our experience.
Playtest
Feedback
We organized some feedback we got.
"The "cancel" button makes me misunderstand"
"The portal should be in a conspicuous place"
"Lack of introduction about how to move or interact in the scene"
"The scene is great but I would like to see more organic assets"
"A notification will be great after I got a new stamp"
"I didn't realize I can drag the passport and there are more stamps"
"I have no idea that the icon is an interaction"
"Wants to see more content"
…
What we did after playtest
Through the feedback we got, we tried to improve the user experience by iterating the UIs and then adjusting some functions.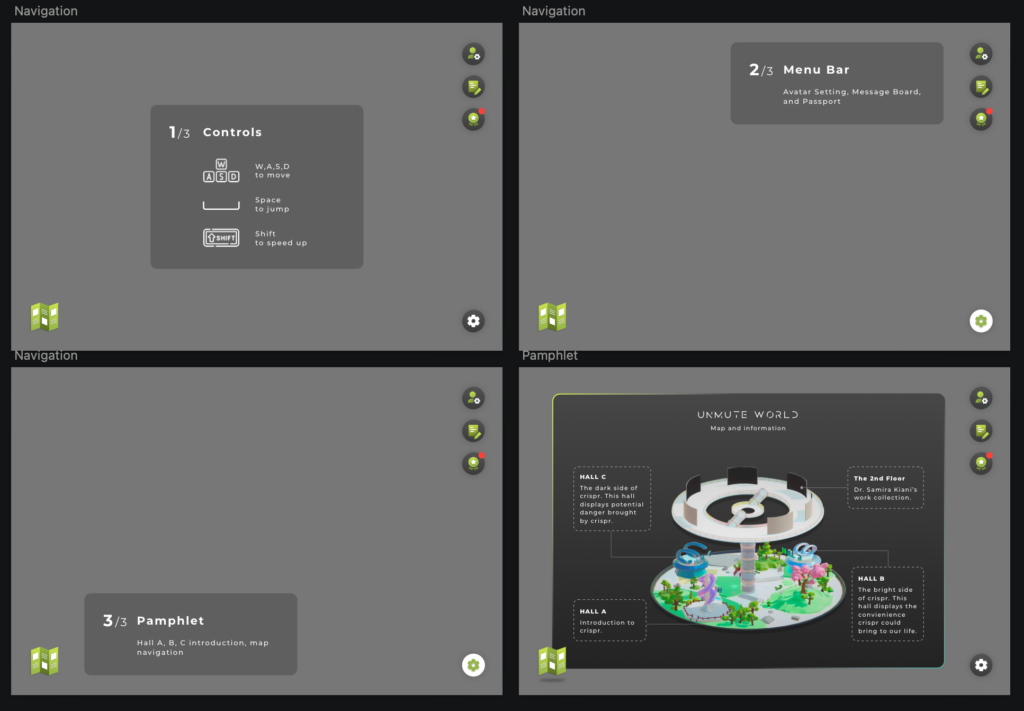 Ash created a museum pamphlet so that players could have an overview of our scene. An instruction UI helps players to know how to move and interact.
Valerie built a new portal model to help players understand that they should go into the halls by walking into the portal
Jerry adjusted the time gap of quiz questions and finished coding the web link functions. Now our players could watch YouTube videos and articles directly by clicking the "Learn more" button.
Peter made some changes of the plaza layout and now players could see Dr. Samira's work collection on the second floor. He also added more interactions such as a Golf mini-game into the scene to make the experience better.
Yukti kept working on the character animation, we will have more animations soon. She also planned to iterate some building models next week.
Next Steps
Since we already have a whole experience ready, we will have a formal playtest this Saturday to collect feedback. After that we will keep iterating depending on their suggestions. Dr. Samira will contact some testers who are high school students, which is also the target audience of our project. Right now it is basically the end of our soft opening so our next steps will be the final polish and wrap-up.