Hi! We are Sustain Dev team!
On the first week, we have meetings with client and instructor to introduce the team members and talk about our project. Our main focus of this week is get to know each other and our clients Alex. She introduce what sustainable development is briefly talk about her needs and vision of our project.
Team Members
Shumiao (Sharon) Liu <Head Producer, Designer>

Qisheng (Jerry) Chen <Assistant producer, Artist>

Jia (Nancy) Xing <Artist, Designer>

Tairan (Evans) Gao <Programmer>

Weilin Yuan <Programmer>

Qiujie(Kristin) Wu <Programmer>
Project Description
Sustainable Development is a game aiming at enlightening college students on the concept of sustainable development and its key components — 17 goals. (adopted by all United Nations Member States in 2015.)Instead of adopting a traditional, didactic way to push all the concepts into the audience's brain, Sustainable Development examines a novel way to deliver concepts by providing a compelling digital experience where players can explore and reflect on the impact of these interconnected goals and how they jointly make the world sustainable and promising.
Tool for organize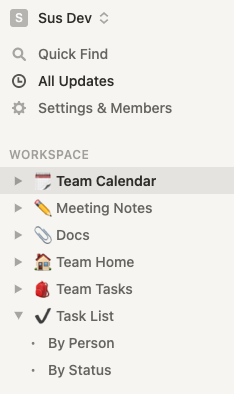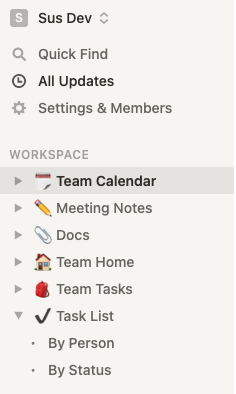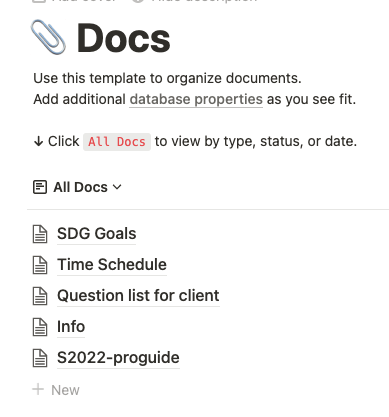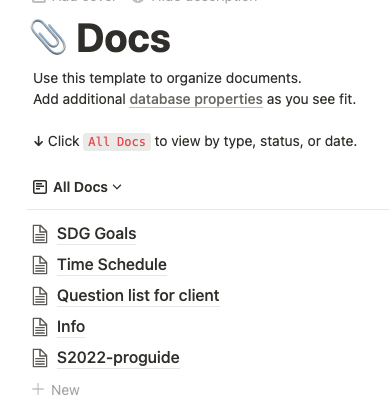 We use notion to organize our works and the resources that we collected. In the website, there docs section which have many resources that we need, meeting notes, task list and team calendars.
We scheduled a meeting with instructor and our client. Before the first meeting, we create a question list in order to make the meeting more engaged.
Because every team members have different elective classes, it is hard to find the core hour. Therefore, we create a time schedule by using excel. Team calendars can remind members of the meeting time.
We also created a jam board used to help us pitch ideas.
We met our client, Alex, for the first time. Alex enlightened us that sustainable development is far more than environmental topics, which prompted us to decide to do some research and exchange information in week two.
During the meeting, we also learned our client's need and the core mission of our project:
Educate people(especially college students) on the notion of sustainable development
Educate people on how ordinary jobs are related to sustainable development.
A game around the feelings of brightness, happiness and hope.
Casual game with a low difficulty index for non-gamer
Letting the audience know how CMU endeavoured to achieve these goals
(optional) A game requires teamwork